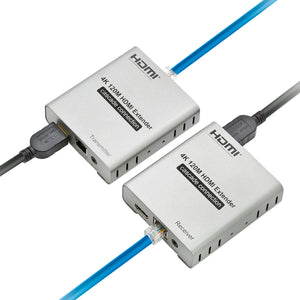 Expert Connect
400ft | 4K@30Hz
Sale price Price $69.99 Regular price
HDMI Extender  | Over Cat 5E/ 6/ 7 Ethernet Cable
Extends 4K@30Hz/ 1080p HDMI Signal up to 400ft via Cat5e / Cat6 / Cat7 Ethernet Cable without losing picture quality.

Local Loop Out
Allows one additional display on the signal sending side provides convenience for monitoring.
Remote IR Control
Control the input HDMI video source (e.g. DVD player) from the display (e.g. TV, monitor) location with the included IR sensor cables.
Cascading
Allows 1-to-1 or 1-to-multiple extension with additional Receiver unit.
Premium Product Quality
Provides 8000v industry-level surge protection against static electricity and lightning strikes; Latest Innovation – Newly-designed isolation transformer enhances your signal for stable transmission over longer distances and also isolates the core for added protection from power surges and lightning strikes.
SKU: HMSET4K120M
Specs
HDMI Version
HDMI 1.4
HDCP Version
HDCP 1.4
Support Video Format
4K@30Hz, 1080P, 1080i, 720p, 576p, 576, 480p, 480i, 3D Video
Support Audio Format
Dolby Digital, DTS-HD, Dolby-TrueHD, DTS, LPCM 7.1
Power adapter Input
AC (50HZ, 60HZ) 100V-240V; Output: DC5V 1A
Package
- Transmitter
- Receiver
- IR Transmitter
- IR Receiver
- User Manual